It's Halloween! And here are the bands for the Night to Dismember 2024!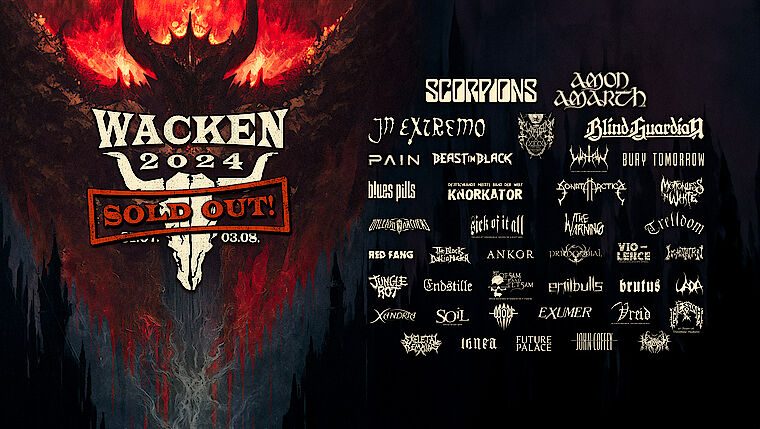 Boo-hooo!
Since the day before yesterday our clocks have been ticking differently again and we are back to "darkness" - from the flying tips of our hair to our heels.
Even though our hearts beat for the warm and sunny FESTIVAL season, there are reasons why the average metalhead feels pretty good in the months after Samhain.
As every year, we celebrate tonight - where the portals open and a few old ghosts like to come knocking - with the eerily beautiful publication of our Night To Dismember program.
Traditionally, the Night to Dismember at W:O:A is kind of something like our personal Beltane - because the bands in the line-up will also shake our brains musically, keep your demons at bay and generally provide a dark, pleasant feeling and some goosebumps in the back of your skull…
Trelldom
There's no need of much talk much about Trelldom's frontman Gaahl is the undisputed king of Black Metal. For us, together with Sir and Kenneth Kapstad, he revives the band for a live performance for the first time (!) since the late 90s!
Incantation
The East Coasters Incantation are easily among the top 3 of the New York Death Metal League. For over 30 years, John McEntee has gathered an illustrious group of musicians around him, which means that one can almost speak of a cult as "just a band".
Endstille
Endstille are no strangers and this year they once again cemented their status as THE German Extreme Metal band with their first album in 10 years called DetoNation and some bloodcurdling gigs.
Jungle Rot
Jungle Rot, who have consistently earned their status, especially in the underground, are making the long journey from Wisconsin. In 24 they bring their barbaric slaughter festival back to the Holy Ground.
Uada
Weird forest people or perhaps the cosmic enlightenment that Black Metal has been waiting for? Both are probably correct. Immediately after their founding, Uada were chosen to be the dark darlings of the scene and underline this with their infamous spooky live shows.
Messiah
Death thrash from the land of mountains and delicious chocolate? No problem say Swiss Messiah. They got back together again in 2020 after a measly 26 years and are doing what they do best again: blasting people's minds musically.
Skeletal Remains
Skeletal Remains diligently carpenters and, above all, jackhammers their international fan base - successfully, because the not so delicate death metal plant of the foursome from California grows and thrives in the old school style a la Death and Pestilence. As the icing on the cake, SR added a pretty iconic artwork overall concept