The W:O:A X-Mas Sale 2022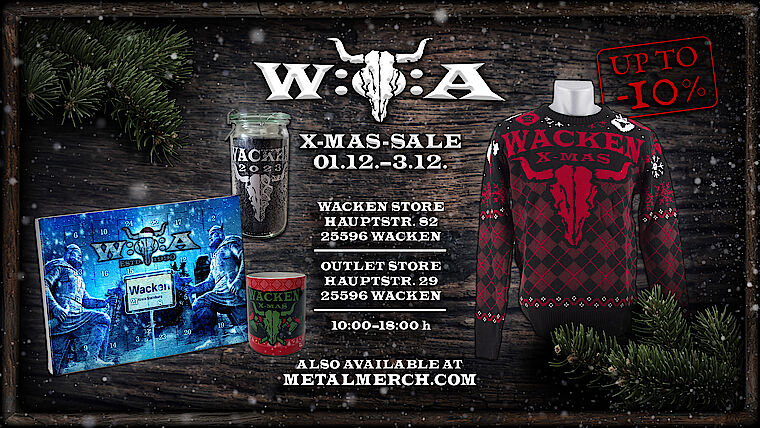 Black Weekend may be over, but that shouldn't be it at all regarding discounts for this year. Immediately afterwards we continue with the next special sale!
From Thursday December 1st up to Saturday, December 3rd, 2022, the doors of our stores open for the X-Mas special sale!
The majority of this year's X-Mas items are offered at a 10% discount - including many new items! This applies to the two local stores in Wacken as well as to the online shop on Metalmerch.com!
This gives you the perfect opportunity to have the right gifts and decorative items ready for the Christmas tree and your four walls at home!
Whether it's our popular ugly sweaters, X-Mas T-shirts or advent calendars - here you can find pretty much everything a metal heart desires! Included are also new items like the jumbo candle, the chocolate calendar or the Viking X-Mas mup!
In addition to the online shop on Metalmerch.com, the doors are open both in the Wacken Store and in the outlet store. The stores are open on all 3 days from 10 a.m. to 6 p.m.!
If you are on site in Wacken on December 2nd, you can also combine the shopping tour with a detour to the Landgasthof (LGH). In the evening there will be an X-Mas party with a live concert by Skyline. Afterwards, our founder Holger Hübner will turn the tables together with Dj Otti from Ballroom Hamburg!
yours
W:O:A team