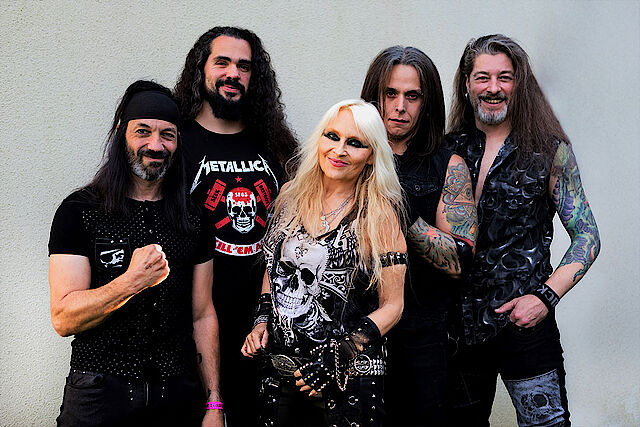 Running Order
Stage: TBA
Day: TBA
Time: TBA
Biography
DORO PESCH - the phenomenal career of the Metal Queen
Doro Pesch already knew at the age of three that she wanted to be a singer. The initial spark was 'Lucille' by Little Richard, which ignited a fire in Doro that still burns to this day. Doro wants to conquer the world with music and make people happy. At 16 she has her first band Snakebite. Beast and Attack follow and the big breakthrough with Warlock. The debut album "Burning The Witches" was released in 1983 and immediately won the hearts of metal fans worldwide. A major label immediately became aware of the band and Warlock switched from Mausoleum Records to Phonogram (today Universal). After the second record "Hellbound" the first successful European tours followed. In the course of the third album "True As Steel", Doro is the first front woman at the legendary "Monsters Of Rock" festival in 1986 in Castle Donington, England, and is frenetically celebrated. The first mega tour with Judas Priest in Europe and W.A.S.P. in England followed. "True As Steel" was also the band's first worldwide release, including the USA. Since it has always been Doro's great desire to conquer the USA, she goes on a promotional tour there. After two days, Doro falls in love with New York City and stays in America.
She works on her most successful album up to that point in time, "Triumph And Agony", with immortal hits such as 'All We Are' and 'Für Immer'. The impressive video clips are shot by famous directors: 'All We Are' is filmed in the L.A. River Basin, where well-known scenes from 'Terminator 2' were also filmed, 'Für Immer' is impressively staged in the swamps of Louisiana. The videos caused a sensation internationally and are shown on MTV on heavy rotation in the USA, where Doro also appears as a host on several occasions. In addition, "Triumph And Agony" is supported by a US tour with Megadeth and a European tour with Ronnie James Dio and achieves gold status. The follow-up "Force Majeure", released under the name Doro, is also immediately certified gold. The accompanying singles 'A Whiter Shade Of Pale' and 'Hard Times' are again being implemented in L.A. by great film and video directors.
After that, another dream comes true for Doro as a big Kiss fan. The album "Doro" is produced by none other than Gene Simmons in New York and L.A.
Further productions with famous producers in Nashville, New York and New Jersey followed with "True At Heart", "Angels Never Die" and "Machine II Machine" and the first live album "Doro Live".
Then it's back to New York, where Doro works for three years on one of her favorite albums - "Love Me In Black". The title track turns out to be another classic in Doro's repertoire.
The following production "Calling The Wild" features Doro's first duet with another icon, Lemmy Kilmister from Motörhead. The friendship between the two grows so much that they tour together, perform at many festivals together, celebrate various anniversaries together and record more great duets over the years. The last one is the heartbreaking 'It Still Hurts' on Doro's album "Raise Your Fist". Doro also releases an elaborate work with the "Classic Night Orchestra" entitled "Classic Diamonds" and also plays an opulent headliner show at the Wacken Open Air, where she has been a guest about twenty times to date, including many headlining shows.
After many more album and DVD/Blu-ray releases, soundtracks for film productions and the again very successful double album "Forever Warriors - Forever United", Doro starts her very successful own label Rare Diamonds Productions. Her releases include the German-language work "Für Immer", the triple album "Magic Diamonds", the cinema film and soundtrack "Anuk – The Path Of The Warrior" and the recent "Triumph And Agony Live".
In 2022, Doro was awarded the Lifetime Achievement Award, having already received an Echo, the Metal Goddess Legend Award in Las Vegas, the Legend Award in England and Germany, the Angel Of Rock Award in England and awards as the sexiest woman alive, among others. She has also been voted Best Female Vocalist in Spain for 30 years and was inducted into the Hall Of Heavy Metal History in the United States.
Doro has given over 3,000 concerts in more than 60 countries.
She is currently working on a new album with many anthems and next year will celebrate her 40th stage anniversary at the world's biggest festivals.
At the end of the festivities, Doro will play another unforgettable concert for her fans in her old hometown in Düsseldorf, where it all started, on October 28, 2023 in the Mitsubishi Electric Halle with many friends and companions.
2023 will be a very special year for the Queen Of Metal - Doro Pesch!